Over the past few years, you've probably noticed what appears to be a new strategy for marketing series fiction.  It's the release of "between the book" novellas or short stories that come out shortly before the release of a new full-length series book.
Why would you as an author want to write a novella and release it a month or so before your new novel is released?   Is this an effective strategy for marketing your series?  Well, since I'm lucky enough to interview authors every week for my show on the Authors on the Air network, I decided to ask two of my favorites, Deborah Coonts and Steve Berry.
Debora, the author of the Lucky O'Toole adventure series has written four novellas that have been released shortly before the newest installments in her Lucky series.
"I write the between-the-book novellas to give the writers a taste of Lucky while waiting for the next novel," Deborah said.  "The response has been great–most folks love the little bits of Lucky parsed out through the year.  And, as a writer, the novellas are vehicles for me to shine light on some aspects of the characters that I don't have the time or opportunity to do in the big books.  And, I get to stretch my writing muscles a bit by trying new things.  For instance, LUCKY NOW AND THEN is a dual-timeline story."
The Lucky O'Toole Adventure series takes place in current day Las Vegas, but LUCKY NOW AND THEN, the novella Deb used as an example, takes place both in current time and twenty some years in the past, when Lucky was a child.   As a reader of the Lucky series,  it was fun for me to get more history on Lucky and her parents, who both play big parts in the current day series.  It was also a blast to read about the days of Las Vegas before the mega-hotels began springing up.  It was a released as a two-part novella with a wicked cliffhanger at the end of part one.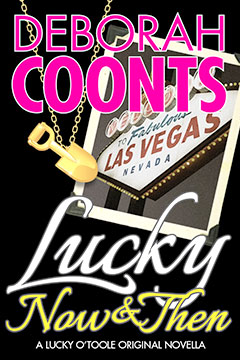 There are pitfalls to avoid though when writing these between the book Novellas.   Deborah says that she, "never wants to advance the story line or grow the characters," in these novellas.  "They are meant to be asides, sort of behind-the-scenes glances at the characters to enhance the main Lucky O'Toole story arc that is propelled forward in the big books."
Deb also cautions about timing issues.  Novellas are digital only, and they can be published much more quickly than her traditionally published novels.  So in her case, she's writing a novella that will be read before the next novel comes out, a novel that she would have already completed and turned in to her publisher.  As she puts it, "So I have to go back in time and remember where Lucky and the gang are and what has or hasn't happened yet.  This can be sorta tricky."
Thriller master Steve Berry has also written several between the book stories.  One was a novella, and three were short stories.  All were released a month or so before the release of the upcoming novel in his Cotton Malone series.  In a recent Murders Mysteries and Mayhem interview Steve discussed his reasoning for writing them.
"I've written three short stories and one novella, and they're designed as marketing tools.  They come out about a month before the book comes out, and they're a way to stimulate pre-sales.  It's also a way for people to discover me, and they don't have to pay full price for a book."
Steve Berry went on to say that all of his between the book short stories or novellas have been successful and that he sees pre-orders "change immediately," once the new stories are posted.
Deborah Coonts agrees, with the idea that the price point of novellas gives readers an inexpensive way to try out the series, but she points out that existing readers love spending time with Lucky more frequently than once a year when the novels come out.
"I love writing the novellas – they aren't any easier than writing the novels, but they challenge me in different ways, which keeps the writing skills honed and fresh," Deborah said.  "So it's a win-win for everybody!"
Writing these between the books short stories and novellas are additional work for authors, but they serve a variety of purposes.  From a marketing perspective they can serve as introductions to readers who aren't familiar with your work, they can stimulate interest in your next book for your core readers, and they keep the characters fresh in the mind of these readers.   From the author's perspective, they can give you an opportunity to experiment, and as Deborah Coonts pointed out, they can stretch your writing muscles.  It really is a win-win for everybody.