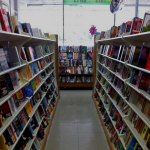 I've never really kept track of the books I've read during the course of a year, but Amazon, Audible and the website at the library are all  making it easier for me to try.   Here's the list, as of today, November 27th.
I doubt the list is complete, but it's close and it's kind of surprising.  I would have guessed two books a week, on average, so that would have been just under 100 through November.  The actual total is 110 112 113.
Now – If only there were some way to magically export this list to Goodreads.
A Real Piece of Work – Chris Orcutt
A Study in Sin – August Wainwright
A Wanted Man – Lee Child
Alice in Wonderland – Elle Lothlorein
and she was – Alison Gaylin
As Dead as it Gets – Cady Kalian
Bad Monkey – Carl Hiaasen
Because we Can – John Locke
Bed of Bones – Cheryl Bradshaw
Black – Russell Blake
Blood of the Lamb – Sam Cabot
Bolero – Joanie McDonnell
Calculated in Death – J.D. Robb
Catching Water in a Net – J.L. Ambro
Celebrity in Death – J.D. Robb
Clutching at Straws J.L. Ambro
Collateral Damage – Stuart Woods
Dazzled – Maxine Nunes
Die Easy – Zoe Sharp
Doing Hard Time – Stuart Woods
Evil Deeds – Joseph Badal
Fatal Decree – H. Terrell Griffin
Fever Dream – Dennis Palumbo
Green Eyed Lady
Ghostman – Roger Hobbs
Gone – Randy Wayne White
Hard Twisted – C. Joseph Greaves
Hit – J.A. Konrath and Ann Voss Peterson
Huntress Moon – Alexandra Sokoloff
Hush Money – Chuck Greaves
Insane City – Dave Barry
It Happens in the Dark – Carol O'Connell
Jet – Russell Blake
Jet II – Russell Blake
Jet III Russell Blake
Killer Swell – Seff Shelby
Killing Custer – Margaret Coel
Last Chance Lassiter – Paul Levine
Last Lawyer Standing – Douglas Corleone
Leader of the Pack – David Rosenfelt
Liquid Smoke – Jeff Shelby
London Twist – Barry Eisler
Love Gone Mad – Mark Rubinstein
Lucky Bastard – Deborah Coonts
Lucky Now and Then – Deborah Coonts
Mad River – John Sandford
Malice Prepense – Kate Wilhelm
Mind Prison – Dave Zeltserman
Mirror Image – Dennis Palumbo
Model Agent – Sean Sweeney
Night Watch – Linda Fairstein
Now you see her – James Patterson
Original Death – Eliot Pattison
Out of the Box – John Locke
Pinot Envy – Edward Finstein
Present Shock – Douglas Rushkoff
Private L.A. – James Patterson
Rasputin's Shadow – Raymond Khoury
Reedemed – Sean Sweeney
Resurrection Express – Stephen Romano
Rise of the Machines – Kristen Lamb
Shot on Location – Laurence Shames
Sidney Chambers and the Shadow of Death – James Runcie
Silken Prey – John Sandford
Six Years – Harlan Coben
Sometimes There Really Are Monsters Under the Bed – Will Graham
Spiders Dance – Will Graham
Spiders Overture – Will Graham
State vs. Lassiter – Paul Levine
Storm Front – John Sandford
Storm Prey – John Sandford
Story: Style, Structure, Substance and the Principles of Screenwriting – Robert McKee
Stranger in the Room – Amanda Kyle Williams
Swamp Walloper – Jack Tunney
Terminus – Joshua Graham
The 12 Clues of Christmas – Rhys Bowen
The Affair – Lee Child
The Birds of Winter – Kinley Roby
The Candidate – Josie Brown
The Collectors – David Daldacci
The Consultant – Claude Bouchard
The Doll – Taylor Stevens
The Forgotten – David Baldacci
The Frog Prince – Elle Lothlorien
The Green Mill Murder – Kerry Greenwood
The Heist – Janet Evanovich and Lee Goldberg
The Housewife Assassin #1 – Josie Brown
The Hunted – Dave Zeltserman
The Kings Deception – Steve Berry
The Last Trade – James Conway
The Lone Wolf Agenda – Joseph Badal
The Man Who Watched the World End – Chris Dietzel
The Mystery of Jessica Benson – C.K. Laurence
The Other Woman – hank Phillippi Ryan
The Red-Headed Order – August Wainwright
The Rich are Different – Chris Orcutt
The Russian Endgame – Allan Topol
The St. Mary's Cipher – August Wainwright
The Stranger You Seek – Amanda Kyle Williams
The Trust – Norb Vonnegut
The Wrong Girl – Hank Phillippi Ryan
Three – J.A. Konrath and Ann Voss Peterson
Two Graves – Preston and Childs
Unintended Consequences – Stuart Woods
Unleashed – David Rosenfelt
Vigilante – Claude Bouchard
White Fire – Preston and Child
White Heat – Paul D. Marks
Wicked Break – Jeff Shelby
Wired – Judith Gaines
Wonderland – Ace Atkins
Write your Damn Book – B.J. Daniels
Writing a Killer Thriller – Jodie Renner